Homeowners Are Spending More On Electricity, Pushing 30% To Consider Solar Panels
David Collins
5 - Minute Read
60.6% of homeowners have seen a rise in their electrical rates in the last year
56% of homeowners believe their utility's electrical rates are too high
If utility bills continue to rise, one-third will consider installing solar
61.7% of homeowners now agree that solar is more reliable than their electric utility
44% of homeowners had already experienced at least one power outage as of July 2022
With the cost of electricity steadily rising, and the frequency of long power outages becoming more common, nearly one-third of Americans now would consider installing solar panels. These findings come from a new 1,560-person study on American homeowners conducted by Rocket SolarSM.
Between inflation, supply chain challenges, and rising interest rates, homeowners are having to find ways to make their dollar go further and prioritize critical household costs. And of all necessities that homeowners have felt hit their wallet, electricity costs are top of mind.
When homeowners were asked which home essentials they are spending more on today than a year ago, 61% said electric power—second only to food (85%) and ahead of commuting (39%). "Each month, I dread and almost fear getting my electric bill because it keeps rising and rising," one respondent said.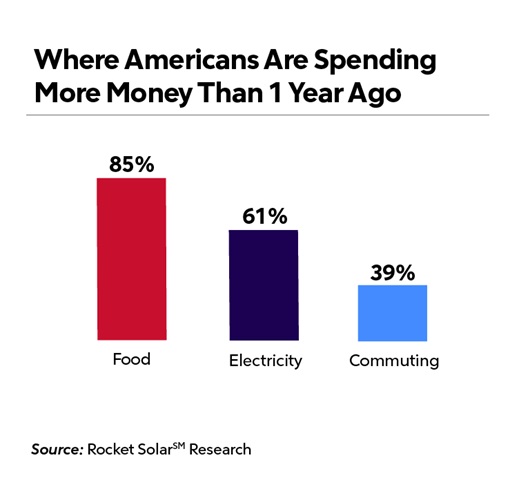 In May 2022 the U.S. Energy Information Administration (EIA) reported that the average U.S. household paid $14.92 kilowatts/hour for home electricity service, more than 5% higher than in 2021 (and even higher in some parts of the country). Since 2012 rates have risen from 11.88 cents/kilowatt hour, a 25% increase in just 10 years.
For those on a fixed income, these higher electric bills can be overwhelming, and for some losing power for even one day can be dangerous. "Power outages impact my family greatly because we have a nine-month-old," said one homeowner. "If the electricity goes out, I get very worried. We live where the heat index reaches 100 degrees and I can't have my baby living in those conditions."
Already, 74% of homeowners believe solar would decrease their electric bill. It is no wonder that 30% of homeowners say that if utility rates continue to rise they will consider installing solar.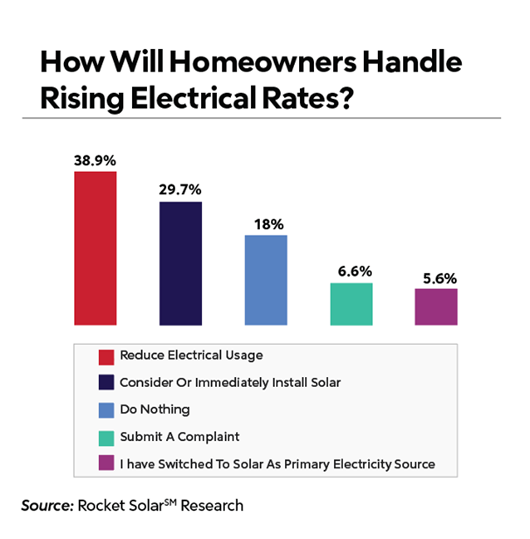 The Financial Benefits Of Residential Solar Panels Will Drive Installation
While the ability to reduce a household's carbon footprint has always been considered a top benefit of solar, the primary driver is clearly financial concerns. Currently, 56% of homeowners believe their utility's electrical rates are too high. In 2022, additional pressure on electricity supply has come from regulations related to environmental concerns, a sudden spike in demand as the global economy emerges from pandemic-related lockdowns, the invasion of Ukraine by Russia, and a spike in inflation.
Of those who do not have solar power, nearly 60% cite a financial reason as the primary motivator to install it. The biggest reason cited was a decrease in the upfront cost of solar (33.4%) followed closely by a continual increase in electricity costs from the homeowners' utility (25.3%). Even the added home value that solar power would bring was a significant factor at 10.3%. By contrast, 17.1% cited environmental concerns as their primary motivation to consider solar power. And with the solar tax credit set to increase to 30% for eligible taxpayers plus more solar financing options, the barrier of upfront cost is reduced. On top of that, better solar financing options are giving homeowners the option of spreading out the cost of rooftop solar.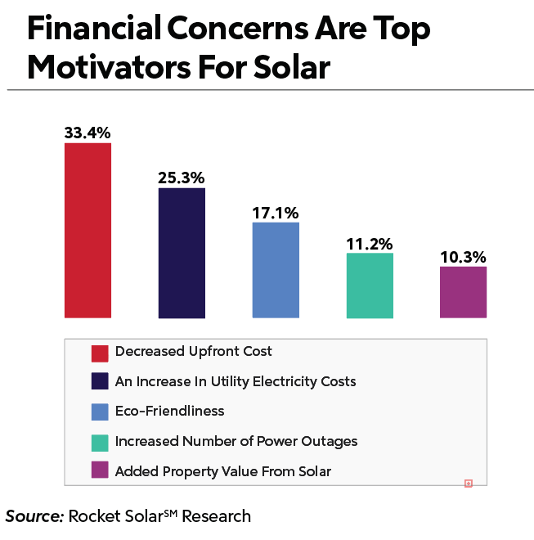 Data suggests that many who have strong environmental reasons for switching to solar power have already done so—and yet financial concerns were a strong motivation for them as well. For the 12.9% (201) of respondents who currently had solar, the desire to be eco-friendly (26.4%) was the top driver to install solar, but 21.9% said it was an increase in electricity costs from their utility provider. In short, the majority of those considering solar energy now and likely in the future will be reacting to soaring electric bills, rather than environmental concerns. However, the increase in clean energy and renewable energy will always be one of the top benefits of solar.
As Outages Increase, 62% Of Homeowners Say Solar Systems Are More Reliable
In addition to the growing cost of electricity, increased power outages are also driving up interest in solar power. Of homeowners, 61.7% now agree that a solar installation is more reliable than their electric utility.
Outages occur for multiple reasons. One top reason is the age of the current electrical grid. The U.S. power grid is old and is not being expanded and modernized quickly enough to keep up with growing demand. According to a recent report, only a small percentage of available investment for grid modernization has been deployed in 2022, largely due to political entanglements and jurisdiction disputes between federal and state authorities.
Furthermore, the strain on the U.S. power grid in recent years has been higher than ever. In 2021 the EIA estimates that consumption was 3.9 trillion kilowatt hours, double that of the late 1970s. There are simply more people, homes, and appliances that require electric power. Add to that Wi-Fi for homes and businesses, as well as battery-powered devices and vehicles that require charging, and the need for electricity continues to grow.
Finally, climate change and recent mass weather events, such as heatwaves, hurricanes, and deep freezes, have caused much-publicized power outages due to either destruction or overuse of the power grid.
All of these factors have led to a quantifiable increase in power outages. The EIA reports that in 2020 the average U.S. electricity customer experienced just over 8 hours of power interruptions, the highest since it began keeping records in 2013.
As of mid-July 2022, 44% of homeowners had already experienced at least one power outage this year, with an additional 4.9% saying they expect to have one but have not yet. Of those, 64.8% had at least two or more outages in 2021.
Among households that have not experienced an outage in 2022, the probability of one this year is still high. In California, for example, September is considered the worst month for power outages. And in the coastal states of the Gulf of Mexico and Atlantic Ocean, late summer and early fall bring the threat of tropical storms and hurricanes that devastate local power grids for weeks if not months.
One surprising takeaway from the survey regarding outages is that consumers are more forgiving than not. While nearly 26% did express that outages make them frustrated and more likely to consider rooftop solar power, 62.7% believe that their utility company does the best it can during an outage. The leading sentiment (49.9%) that they have when the power does go out is simply a hope that it will come back on soon.
Overall, survey respondents are in very strong alignment regarding the future of solar power. Despite the financial barriers to entry into residential solar power, a vast majority believe solar is the future —with nearly 72% saying that solar power is not just a trend and 70% affirming their belief that "solar will change the world."
Methodology
To understand homeowners' feeling around electrical rates and power outages in relation to their interest in residential solar power, Rocket Solar surveyed 1,560 single-family homeowners. To get an equal representation of the population ages 18-76, the sample was controlled and divided equally among a combined sample of Gen Z and millennials, Gen X, and baby boomers. To make sure the participants had a clear understanding of their electric bill, those who weren't individually responsible for their electric bill or didn't have a significant other responsible for their electric bill were excluded from the study. The sample was controlled to be 50% female and 50% male. This survey was conducted on July 22, 2022.