Homeowners' Perception of Home Solar: 57.3% Say They Will Get Solar In The Future
David Collins
7 - Minute Read
More than half of Americans (57.3%) now say they intend to install a solar power system to meet their electricity needs at some point in the future, according to a survey of 2,000 homeowners conducted by Rocket SolarSM. This is due to several reasons, but mostly the financial bottom line. This coincides with rising electric rates across the U.S., enticing government tax incentives and rebates that make solar power more affordable, and increasing in efficiency of home solar systems.
Of American homeowners, 17.1% either already use solar power (10.7%) or intend to in the near future (6.4%). The majority (82.9%) still are holding off on taking next steps to adopt solar. To get a true understanding of how solar is perceived generationally and in different areas of the country, survey respondents were equally distributed among homeowners from three age groups (Gen Z/millennials, Gen X, and baby boomer) and four regions (Northeast, Midwest, South and West). From this it was determined that receptiveness to solar adoption varies by region and generation. But overall, it isn't eco-friendliness that is the primary driver for solar installation; it's financial.
74% Say Interest In Home Solar is Motivated By Financial Incentives
Uniformly across all areas of the country, non-solar homeowners find the prospect of lowering their utility bill to be the main motivator for installing solar panels. A total of 49.6% would get solar if it lowered their electrical bill (34.6%) or stop paying their electric bill all together (15.3%).
It's notable that while conversion to solar energy is often presumed to be highly motivated by concerns for the environment, only 8.5% of respondents claimed Eco-Friendliness as their top reason for going solar.
Responses from homeowners who have already installed solar power support the notion that it brings positive financial results. Among survey respondents who have already invested in home solar power, they report significant savings on their electric bills and anticipate both an increase in the market value of their home and massive savings on electricity over the lifetime of their solar system.
The median national electric bill of non-solar households with traditional electric power was $121-$140 month. For solar homeowners, lower electric bills have become a reality. Solar homeowners had a median electric bill of $41-$60 a month—an annual savings of about $1,000 a year (and significantly more in states with high electricity prices, such as California). These savings result in the typical solar system paying for itself in 5 to 10 years, with the estimated lifespan of today's system at 25 years.
Of course, the Achilles heel of home solar power is its delayed gratification — consumers must make a very large initial investment and wait several years to "earn" it back before they even begin to see big savings. In fact, the median increase in home value that surveyed homeowners expect after adding rooftop solar is $5,001 – $10,000.
Of survey respondents without solar power, 70.6% said that the upfront costs are what prevent them from adopting solar power. New financing solutions like solar loans and the new federal tax credits is helping to mitigate upfront costs for homeowners. Other top reasons cited for not going solar are the belief that the costs outweigh the benefits (46.2%) and that it all seems too complicated (40.9%).
The West Coast Is Leading The Way In Solar Panel Installations
Not surprisingly, the region leading the way toward solar adoption in the United States is the West. In fact, more than half (51.2%) of survey respondents with home solar reside in the West. The reasons for this are many, chief among them a preponderance of eco-conscious and "off-the-grid" residents in these vast territories, significantly more sun exposure than the other regions of the country, and the fact that California alone has nearly 40 million residents, or about 12% of the entire U.S. population. Californians are even further incentivized to go solar because the per kilowatt-hour cost of electricity is significantly higher there than in almost every other U.S. state. On top of this, California's solar mandate requires for all new homes to have rooftop solar that can support all energy needs if they are three stories or less.
Based on these factors, it is unsurprising that among all survey participants, residents from the West were far more likely to already have solar power (21.8%) or state that they "are in the process" of installing it (8.8%). And significantly, 61.7% of western residents on the survey who do not have solar power said that intend to install it in the future.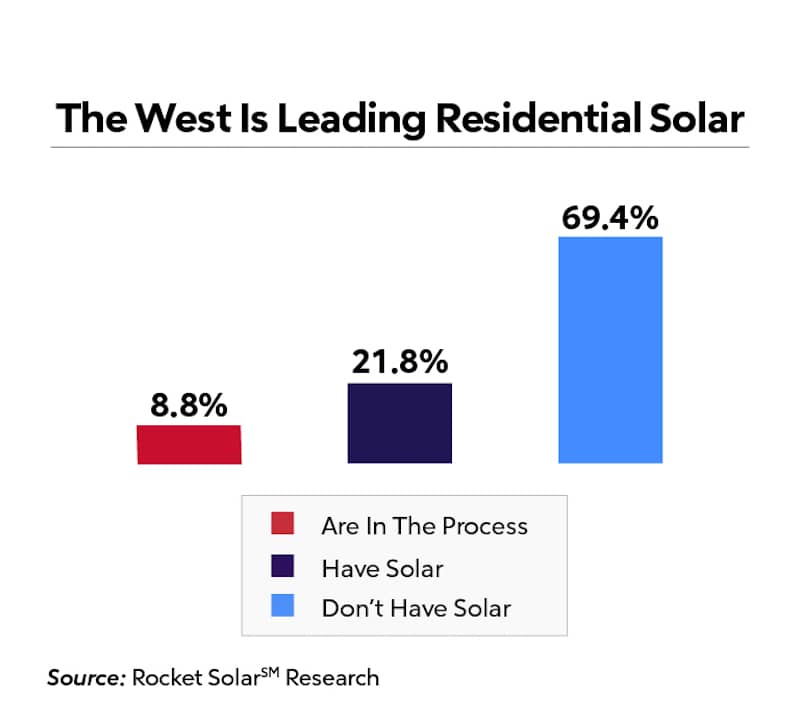 The Northeast Isn't Far Behind The West Coast In Solar Panel Adoption
Of all survey participants who said they already have solar power, the second most (23.9%) were from the Northeastern states. The Northeast has some of the least sunny and more temperate states.
Currently, 10.2% of survey respondents from the Northeast said they already have solar power, with another 7.4% saying they are in the process of adding solar.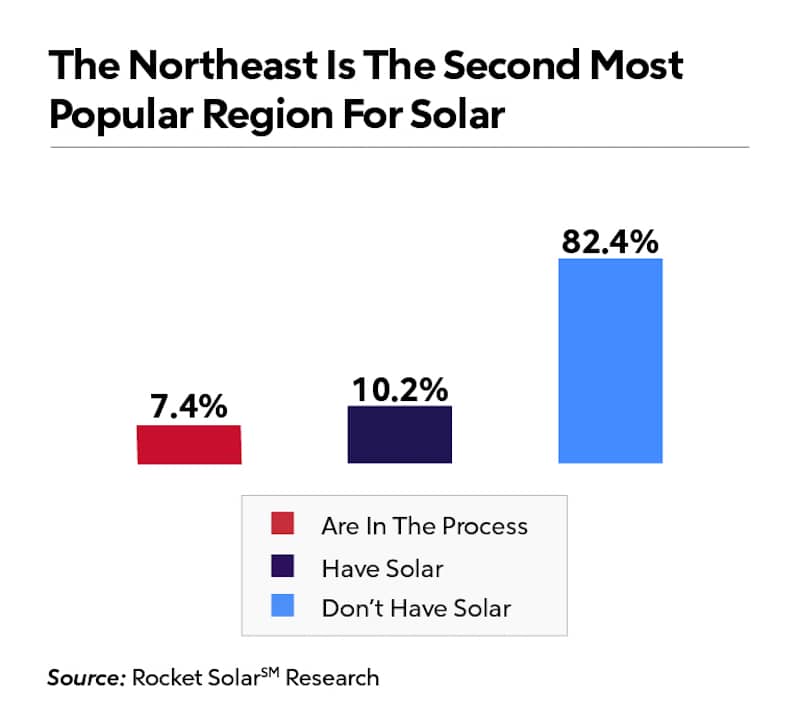 One factor pushing solar power's popularity in the Northeast might be extensive government tax credits that encourage the conversion to solar. In New York state, for instance, one of the most populous states in the U.S., residents are eligible for a 25% state tax credit for installing home solar. This is in addition to any federal tax credit residents may qualify for.
Perhaps another reason that residents of Northeast states are quicker to adopt solar power is a lower financial impact to their budget. Several of the top states in per capita income are in the region.
More Cloudy Days Puts A Damper On Solar Adoption In The Midwest
Of all Midwest residents surveyed, only 4.2% said they already have solar power, and only 3.8% are in the process of getting it, the lowest of the four regions.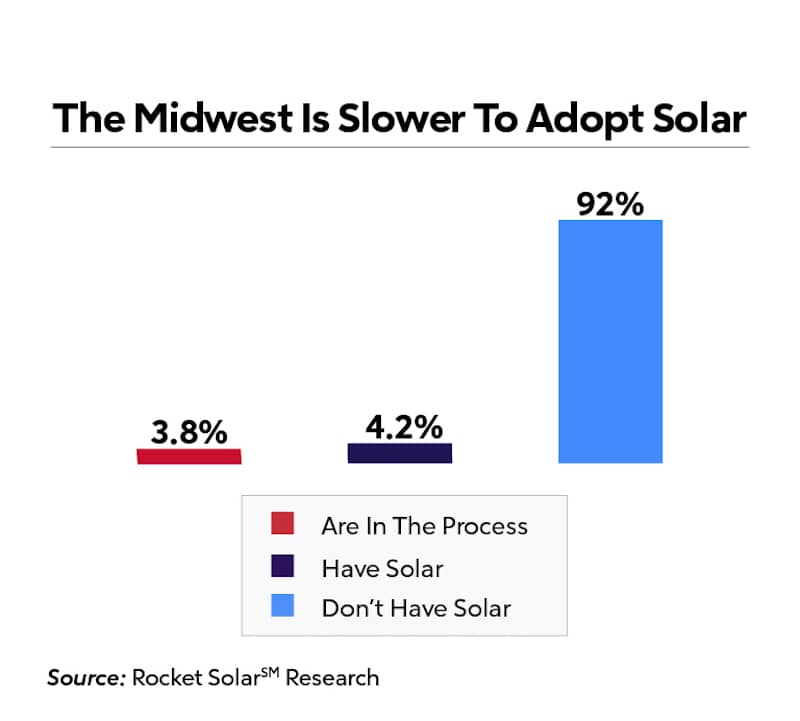 This holds true even though state per capita incomes are fairly robust, making an investment in solar power more within reach for many. These results suggest that in the Midwest, the long, cloudy, and snowy winters have residents skeptical that solar power can provide a big enough dent in electric bills in places where the sun does not shine consistently for six months of the year.
Indications are that while they have a strong desire to reduce electric bills with solar power, Midwesterners have trouble making the economic case for the investment. With 34.9% of Midwestern homeowners citing lowering their electrical bill as the main motivator to install solar, 79.4% find the upfront costs to be significantly more of a barrier than those in the Northeast (69.2%), South (73.8%), and West (59.8%).
The South Is Significantly More Motivated By The New Tax Credit
Of all regions of the U.S., perhaps none will be more impacted by rising electricity rates than the South. Outside of a few southwestern states, the states most dependent on electricity are in the South, where home cooling (AC) is a necessity due to the extremely warm, humid conditions for at least 6 months of the year. Air conditioning, unlike home heating which can also be powered by natural gas or propane, is entirely powered by electricity.
Several southern states are also among the lowest in per capita income, so rising electric bills in summer months hit them hard. With abundant sunshine and strong demand for electricity, one would expect higher interest in solar power. But only 6.4% of homeowners in the South have solar, with 5.6% saying they are in the process.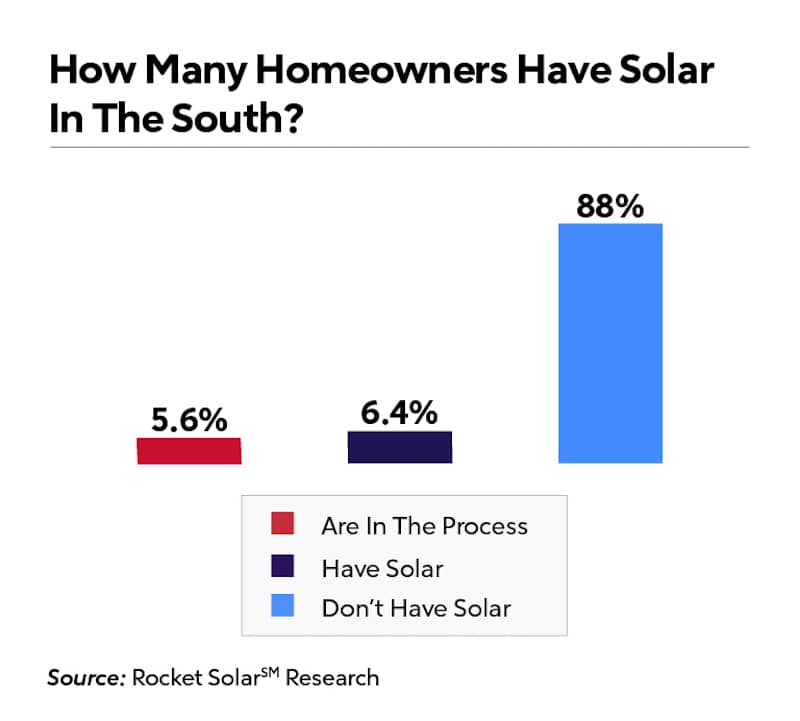 But the South seems to be warming up to solar power, perhaps in part due to large weather-related outages in recent years (multiple strong hurricanes and a deep freeze that greatly impacted Texas particularly). While currently only a combined 12% of the South are either in the process of getting solar or have solar, 57.3% of households in the South say they plan on getting it in the future. This is just behind the West (61.7%) and ahead of both the Midwest (55.7%) and Northeast (55.6%). More specifically, significantly more non-solar homeowners in the South (13.4%) say they will get solar installed in 1-2 years than those in the Midwest and Northeast.
Gen Zers And Millennials Are Driving Future Residential Solar Adoption
Not surprisingly, it appears that the future of solar energy lies with younger homeowners. Of Gen Z and millennial, 73.2% said they intend to install solar in the future, compared to 62.1% from Gen X and 39.9% of baby boomers, the oldest group.
Among homeowners surveyed, 62.5% of those who said they are in the process of attaining solar panels are Gen Z and millennials. Of Gen Z and millennials who don't have solar, 40.8% said they would install solar in the next 3 – 6 years, which is significantly more than any other generation. Considering that a large part of these two generations have just begun to purchase their first homes, have held off purchasing a home, or have only recently gotten a home, it reveals a strong intent in the younger generation to adopt solar power.
Results show that nowhere is the Gen Z or millennial generation's drive to adopt solar power stronger than in the West. In fact, more of this generation either have solar power (13.9%) or are in the process of getting it (12%) compared to Gen X and baby boomers who have lowest adoption of solar (8.2%).
Baby boomers' lower interest in solar could be due to their current financial situation. Baby boomers are or will soon be living on a fixed income provided by retirement savings, Social Security, or both. For them, a reluctance to spend thousands on technology that they do not understand or have immediate need for is understandable. In fact, 60.1% of baby boomers said that they have no intention of installing solar power.
Not to be left out, Gen X has one significant outlier in the survey, specifically among Gen X homeowners in the West. There, several states, including California, have deregulated energy markets that can not only lead to higher electricity prices but also reduced grid reliability. Outages, rolling blackouts, and even rationing are on the rise, prompting more consumers to escape the grid. Of Gen X non-solar homeowners in the West, 14% cite "getting off the grid" as a reason to go solar. This is significantly more than all three generations in every other region of the country combined.
Whether homeowners' reasons to get solar is based on environmental concerns, energy costs, grid reliability, or a combination of all, it is statistically evident that interest in home solar power skews to younger generations. The survey suggests that young homeowners, perhaps with a wary eye toward an increasingly expensive and ageing electrical grid, prefer a future with the affordability and energy independence that their own solar power system can bring.
Methodology
Rocket Solar surveyed 2,000 Americans, with an equal number of Gen Z and millennial (18 – 41, combined generations), Gen X (42 – 57), and baby boomers (58 – 65+). Also, an equal number of respondents from each generation in the Midwest, Northeast, South, and West regions of the U.S. by current U.S. census regions is represented. Respondents were surveyed on their current views, understanding, and perceptions of solar panels. The survey was completed August 23, 2022.